The Bronzeville Community boasts a rich African American cultural history.  Originally known as the Black Metropolis, it became home to many Black people who fled the south in search of better opportunities in Chicago during the Great Northern Migration between 1910 and 1920.
Bronzeville gained its name by the skin color of its residents.  This little factor could not stop the greatness that resided within its borders.  Ida B. Well, Bessie Coleman, Sam Cooke, Lou Rawl and Jesse Binga are just a few of the geniuses from  this community.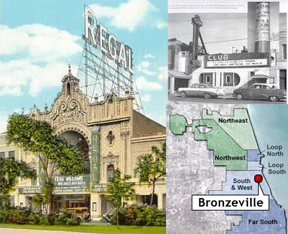 To ensure that these memories continue, the DuSable Museum will exhibit "The Soul of Bronzeville: The Regal, Club DeLisa and The Blues" through June 27, 2010. Curated by Gregg Parker,  original photographs, instruments, personal memorabilia, music and moving footage will be shared.
Visit www.dusablemuseum.org for more information about the exhibit, hours, and rates.