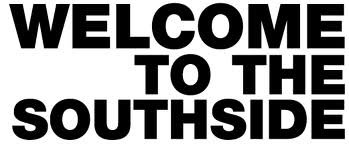 For as much as I love the South Side, I'm really getting a little depressed living in these parts for several reasons.
First, the paper content on the ground is ridiculous. One day I went out to pick up paper and it filled up a WHOLE bag. I was so mad. If the paper wasn't on the ground, the wind couldn't blow it and it wouldn't be on my property. But just walking down main streets and having the paper chasing you on a windy day is horrible.
Second, the state of the buildings where businesses reside. In my neck of the woods, even the building look like they don't want to hang around any more. Many have bars on them to prevent burglary. A lot of them are boarded up. Even worse are the ones that are occupied and you really can't look at them at tell. It's not a very pretty site.  At all..
Third, the hopelessness in faces of the people you pass on the streets. I don't know the cause of those faces, but I do know that there are so many unhappy people on this side of town and it shows. Literally.
Fourth, people in the community break into the businesses in the community. That's a jacked up mentality. Actually that's beyond effed up. You have people who are trying to provide a service to the people in the community but these same people break into their business and inconvenience them on so many levels. So, much for community support.
Fifth, there has been a great increase in crime with the recession and the unemployment rates in many of the community are outrageous! And the perpetrators of crimes are getting younger. Don't believe me? Attend any CAPS meetings and learn for yourself.
I need to end this side because it's getting depressing talking about the depressing side of the South Side. Before I go, I would like to know: What are some things about the South Side that depresses you?