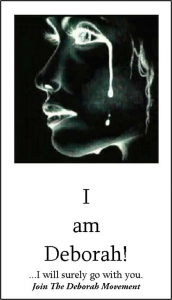 The Deborah Movement, an arm of The Black Star Project, is a group of concerned citizens that support the families of young people that are victims of violence. Listen to my interview with Claudette Rednic, the Lead Servant of the Deborahs, to find out more about who the organization and what they do.
My Interview with Claudette Redic, the Lead Servant of the Deborahs
[mp3player width=177 height=281 config=fmp_jw_widget_config.xml file=http://www.goshorty.net/wp-content/uploads/2011/08/Claudette-Redic.mp3]
The Deborahs in Action
[IVRSS_GALLERY:TYPE=gallery1:DISPLAY=5:HEIGHT=400:RANDOM=NO]
Shorty: Your Chicago South Side Resource is partnering with We Are Not Alone -No Estamos Solos "to tell stories about the everyday heroes, the well-known community groups and all organizations, whether large or small, who are doing their best to deal with the violence and the problems that nurture it." Visit Chicago is the World to learn more about the program and how you can contribute.