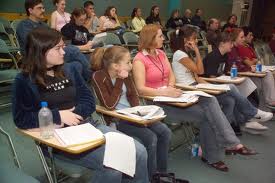 According to the Huffington Post article U.S. Falls in World Education Ranking, Rated 'Average'
The three-yearly OECD Programme for International Student Assessment (PISA) report, which compares the knowledge and skills of 15-year-olds in 70 countries around the world, ranked the United States 14th out of 34 OECD countries for reading skills, 17th for science and a below-average 25th for mathematics.
The figures in Chicago are much lower. Could this be because writing is missing from the equation?
Let's think this about this. The scholars from back in the day emphasized the 3 Rs of reading, writing and 'rithmetic (math). Today, the people in charge of education are concerned about Science, Technology, Engineering and Math (STEM). While I don't discount these disciplines, I do wonder if  America's rankings are low because there is little emphasis on writing.
Writing is thinking on paper. It helps with critical thinking, reading skills and verbal communications skills. Yes, it is obvious that young people today  need help in all these areas. If they don't have the the 3 Rs, do you really think they'd get STEM??
I don't think so. But, hey, that's my opinion. Do you think writing would help boost American students rankings in reading, science and math?