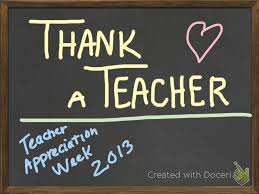 I know I'm a little behind on this one because National Teacher Appreciation Week started on Monday and it ends tomorrow. And Teacher Appreciation Day was on Tuesday, May 7th.
However, it is never too late to let the people who are instilling knowledge and values, teaching life lessons and molding tomorrow's leaders that their efforts are recognized and appreciated.
So, thank you, thank you, thank you!
Image: doceri.com