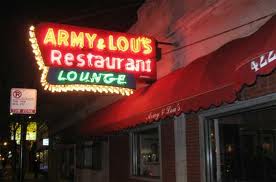 Legendary soul food restaurant, Army & Lou's, has closed its doors after serving Chicago's South Side for over 65 years.  In addition to being one of the oldest black-owned restaurants in the Midwest, Army & Lou's, located at 422 W. 75th Street, is best known for high quality soul food, service and a "down south"  family atmosphere.  It was a favorite place of dining for  families, politicians, celebrities and other well-known individuals until its last days.  Unable to with withstand these challenging economic times, they officially closed on Sunday, January 30, 2011.  The owners and all of their supporters are hoping that the closing is only temporary.
Read the Sun-Time for full story
I do have a question, though.  Why was this story reported almost a week later if the restaurant closed on January 30, 2011?