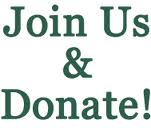 Starting in May, I'm going to start collecting donations for organizations doing great works in the Chicagoland area.  Any amount you can give would be greatly appreciated. There will be a donate option on the right-hand side of the site.
You may recognize the names of some companies, and may be unfamiliar with others.  Ideally, we will interview them prior to the campaign, but that may not always happen due to time limitations. I feel that it would be great to do something nice to acknowledge people for the work they do, and this is my way of giving back.
If you know of organizations worthy of donations, submit a nomination of 250 words or less in our contact form. Please put "I'm Nominating an Organization" in the subject line.