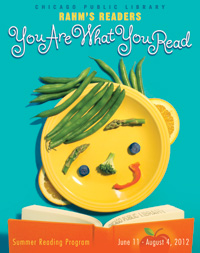 The Chicago Public Library's Summer Reading Program is in full effect until August 4, 2012. It's not too late to register your young people in the program to ensure continuous reading over the summer. They have to read books and write book reports . And for the little people who can not yet read, they can draw pictures. It's so cool!
Rewards for Reading
According to the Chicago Public Library's site,
"Picture-book readers and pre-readers who complete 25 pictures books will earn a bag for books. Children who read chapter books will earn a back to school drawstring backpack when they complete 10 chapter books. Weekly book raffles, author visits, performers and presenters are just some of the activities that are featured throughout the summer in this drop-in program that helps motivate kids to read for fun.
For more information, contact your neighborhood library or call Children and Young Adult Services at (312) 747-4780."
RUN, not walk, to the nearest library and register your child to be a Rahm Reader!
Image: Chicago Public Library