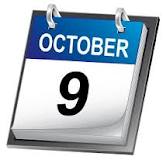 You need to contact a voter registrar or visit the Chicago Board of Elections by October 9th  if you
Have not registered to vote
Need to change your name
Need to change your address
This election ain't no joke. Y'all better make like the people during the Civil Rights Movement and march y'all a**es to the polls otherwise we'll be taking a huge leap back into history where we'll be singing, "Romney, let my people go!" And your cries and pleas for freedom will fall on deaf ears like they are now with the current Republican leadership. Because if they wanted to help working class people and the economy, they would be cooperating with Democratic leadership, who are quite suspect themselves. But hey, we have to vote for somebody (unfortunately).
I digressed.
Anyway, be sure you are registered to vote and your information is correct.
ILLINOIS EX-OFFENDERS CAN VOTE
According to Nonprofit Vote, "Individuals incarcerated for a felony conviction are ineligible to vote. Voting rights are automatically restored upon release from prison, and people on parole or probation can vote. Ex-offenders should re-register to vote."  If you or anyone you know has been released from prison, be sure they are registered to vote.
SHOW UP AT THE POLLS AND VOTE ON NOVEMBER 6, 2012