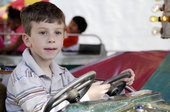 Mr. Lee is one of the FunTown Fans who responded to my post about about the lack of information about the park on South Side of Chicago.  Read more on his memories.
Funtown Memories of Mr. Lee:
Over the past 12 years , I've been looking for archival records Funtown.  The closest thing I have run across was a old radio jingle that was played last year on WVON during a tribute on the passing of Richard Pegue – he did the jingle for Funtown.  All of us who were around during those times still remember.  When I heard it, I caught the recording halfway and recorded it with my cell phone.  Since then I have changed phones, but I still have the phone.  Hopefully, the recording is still on there.
Also, I've also been in search of archival records of places that I usally bring up on My Facebook Page. The Loop Roller Rink on 95th; The Magikist Lips On 87th & the Dan Ryan; Community Department Stores; etc.
I found this on the Roller Coaster Database:
"Funtown, Funtown for the kids and you, 95th and Stoney Island Av-e-nue, Funtown!"

Thoughts from Shorty:
Mr. Lee brought up an interesting thought.  Would you be willing to pay to download the Funtown jingle as a ringtone?