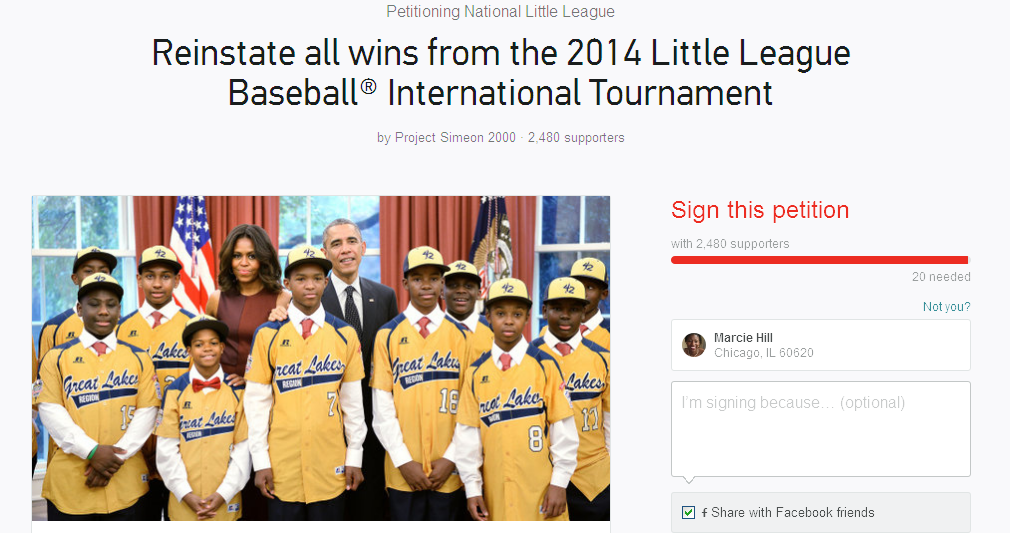 Ok, I was going to try to refrain from this topic but since I got this petition, I'm going to speak.
First of all, I don't think the title should have been stripped. The adults in this matter should be penalized, but the children should not have to suffer because they WORKED for this title.
Second, the adults that were doing all of the research to uncover information need to be investigated on a personal level. I'm sure skeletons would fall out of their closets. This clearly shows that some adults are sore losers – even if they are not playing.
Third, ALL little league teams should be investigated for the past 5 years. Surely, JRW wasn't the only Little League team that had violations. If
Fourth, and we know that this true. The only reason why they were scrutinized on this level is because the team members are ALL black. If there were other races and shades on that team, this would not have been an issue.
Fifth, show your support for these young people by signing the petition to reinstate all wins that Jackie Robinson West earned from the 2014 Little League Baseball International Tournament. You can click the link or on the image.