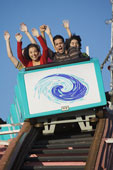 I've started conducting research on amusement parks in Chicago, and there is very little information about Fun Town Amusement Park that was located on 95th & Stony Island.  I did find that the company was in existence from  1950 – 1982. With over thirty years of history on record, why isn't there more information about Fun Town amusement park?
After a few hours of research, the only site that produced results was the Roller Coaster Database, and that was to mention the two roller coasters in the park.
If anyone has any knowledge or photos of Fun Town Amusement Park, please share.  Thanks so much.