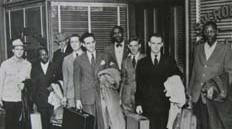 In honor of the 50th anniversary of the Freedom Riders, WGBH Boston's American Experience has produced the documentary Freedom Riders-based on an award-winning book by Raymond Arsenault, PhD.
On Saturday, April 9, 2011 award-winning director Stanley Nelson and Freedom Riders Genevieve Hughes Houghton, Thomas Armstrong and Dan Stevens will host a FREE screening and discussion, moderated by Adam Green, PhD, Professor of History, University of Chicago. From 2:00 p.m. to 4:00pm at The DuSable Museum of African American History.  Also, there will be a documentary screening of Freedom Riders and a panel discussion with former Freedom Riders and director Stanley Nelson, moderated by Adam Green from 4:00 p.m. to 5:00 p.m.
The event is free and the public is welcome.
Image: DuSable Museum