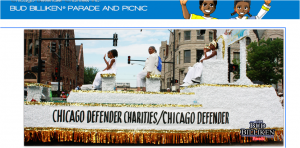 Don't forget that the 83rd Annual Bud Billiken® Parade and Picnic will be held on tomorrow, Saturday, August 11, 2012. The parade route begins at 10:00 a.m. on 39th & King Drive and ends on 55th Street. The picnic will following in Washington Park.
Just a little history taken from the site:
The Bud Billiken Parade is the oldest and largest African-American parade in the United States. Since 1929, it has always been held the second Saturday in August. The idea for the parade came from Mr. Robert S. Abbott, the founder of the Chicago Defender.
The Chicago Defender Charities was founded in 1945 as the charities arm of the Chicago Defender. Its mission is to improve the quality of life for African Americans through educational, cultural and social programs.
Image: budbillikenparade