The Chosen Few DJs have stepped up their plans this year by offering a full weekend of house music instead of just the House Party Picnic. The weekend of July 5 – July 8, 2012 will be the Chosen Few Reunion Weekend, and they've invited special guests from New York and Detroit to join in the celebration.  Even though House Heads from around the world come to Chicago to get their party on.
The kickoff and sendoff begin on Thursday, July 5th and end on Sunday, July 8th at The Shrine, located at 2109 S. Wabash.The picnic will still be held on 63rd & Hayes. It begins at 7:00 .m. on Saturday, July 7, 2012 with a a pre party on Friday and an after party on Saturday after the picnic. They're taking us back, y'all!
2012 Chosen Few Reunion Weekend
Visit Chosen Few DJs site to get more details about what to expect this exciting weekend.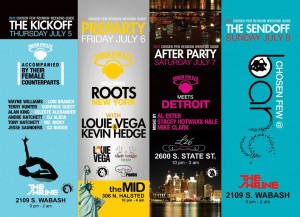 Will you be at the 2012 Chosen Few Reunion Weekend?