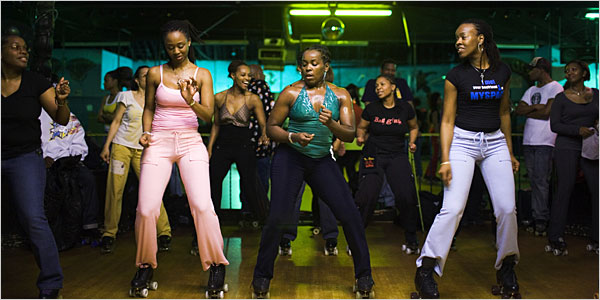 As a fairly new roller skating junkie and journalist, I have conducted a little research about roller skating in Chicago and have learned quite a bit.  The most interesting fact I've learned thus far is the Chicago South Side has always been a hot spot for roller skating.  Even today.
Roller skating rinks were connected to early amusement parks, so visitors had the best of both worlds.  And it probably cost less than a $1 to get in and that time.  Talk about buy one, get one free!
During the disco years, roller skating and dancing were the things to do.  The really good skaters jammed on wheels.  There were skating competitions between the South and West sides of Chicago.  People in Chicago even went to Screamin' Wheels in Gary to get their roll on.  Memories anyone?
Even though roller skating is not as popular as it used to be in the 80s, Chicago is still one of the hottest place to skate according to Tasha Klusmann, Board President of Our Family Skate Association in Washington, D.C. What makes this  so?  We are one of the few cities where people can skate any night of the week.  The fact that people come from Wisconsin and Detroit to get their roll on in Chicago is a testament to its attraction.  And, the old school skaters are keeping the sport alive.  Check out my clip of Dr. Margaret Burroughs from The DuSable Museum of African American History.
httpv://www.youtube.com/watch?v=W98VO7nG7mw">
So, my fellow Chicagoans, even if you are not a roller skater, you should be proud of this accolade.  Did I mention that roller skating is good for your health?