According to an article in Crain's Chicago, "Chicago has paid about $662 million on police misconduct since 2004, including judgments, settlements and outside legal fees, according to city records."


That's over a half-billion dollars in approximately 12 years, that we know of. And we don't know how much is currently pending and what happened before 2004.
According to Illinois Policy, the city is currently $63 billion in pension debt.
Here's the 2016 Budget for the Chicago Police Department.
Did you read the summary of the department: protects the lives, property and rights of all people…enforces the law impartially…in partnership with other members of the community…highest degree of ethical behavior and professional conduct? This is a farce on all levels.
I digressed.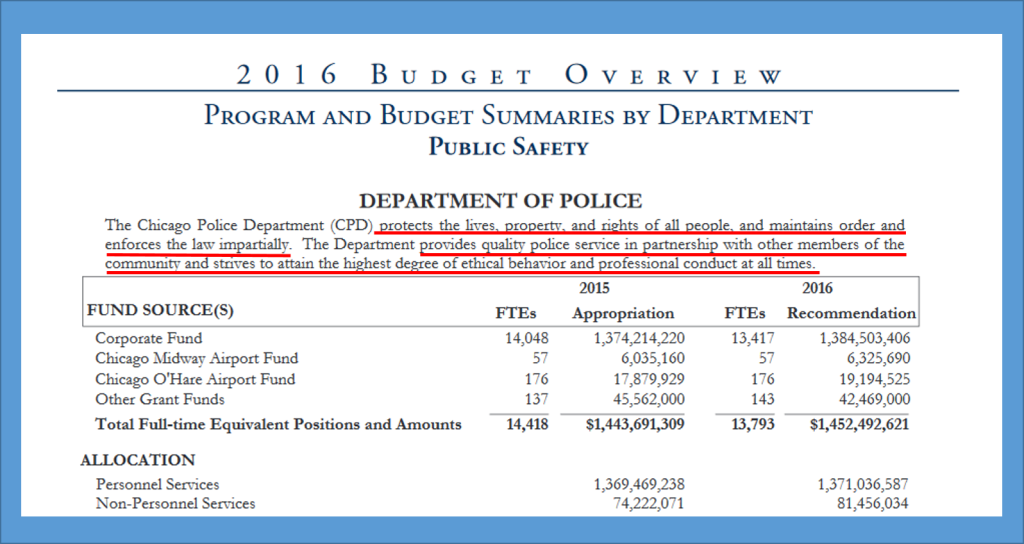 Can Firing Bad Officers Help Reduce the City's Pension Crisis?
Let's do a little math. I know this may be simplistic in nature, but hey, let's look at it anyway.
City pension deficit = $63 billion
Money paid for police misconduct = $6.6 million over a 12-year period, which is nearly 10 percent of the current pension deficit.
I did not research the number of police officers that were responsible for misconduct and are still working, but I did look at the City of Chicago Data Portal for salary information. Many seasoned officers earn between $70,000 – $90,000 per year. In 2014, Jason Van Dyke, the office accused of shooting Laquan McDonald, earned $78,000 a year, according to the Better Government Associations payroll database.
Scenario
10 officers charged with misconduct earn $70,000 per year = $700,000.
10 officers working 10 years for $70,000 a year = 7,000,000.
Cost of benefits and perks per year = $30,000
Benefits and perks over of period of 10 for 10 year: $30,000 x 10 years = $300,000
Multiply that by 10 years = 3,000,000
There are several unknowns, but here are two that come to mind:
How much the city contributes to the pensions of the officers;
How much the city is paying in salaries and retirement benefits for former staffers that were bad employees but are still receiving benefits.
Base on these figures, at least $10,000,000 per year could be saved on salaries and benefits by firing police officers responsible for misconduct. Certainly this could help with the city's pension crisis, directly and indirectly.
What Do You Think?
Can firing bad cops help reduce the city's pension crisis?
What other ways can money be saved and possibly allocated to the city's pension?