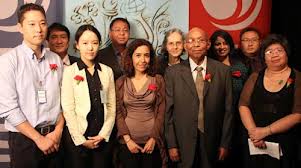 The Ethnic News Media at Community Media Workshop (CMW)  in partnership with IL Coalition for Immigrant and Refugee Rights and The Chicago Headline Club is sponsoring Mobilizing Ethnic Communities to Vote, a FREE brown bag session from 10:00AM to 11:30AM on Tuesday, October 2nd at 33 East Congress – ROOM TBA.

Attendees of this event will learn how to find out what issues are impacting ethnic communities this election year and campaigns to engage these
communities to create stronger civic engagement. This panel will be moderated by Stephen Franklin from CMW and the panelists include:
Even though this event is free, you still need to register to reserve your space. Register now!
Questions about this event? Call Ethnic News Media at 312-369-6400.
Image: newamericamedia